Beautiful parks, mountains, beaches...and not to forget Los Angeles and its most popular neighborhood- Hollywood! These are among the landmarks that make California one of the most popular and visited U.S. states. That is why we decided to pay special attention to it in the context of dog training and service dog training in particular.
If you are currently based in California, want to move there or are just interested in what this state has to offer as service dog training options, this article might be very helpful to you.
Service Dogs in the US
Prior to discussing service dog training in California, let's talk about service animals in the US and what regulations apply to them. Service animals are specifically dogs who have been individually trained to do specific work for the benefit of an individual with a disability. The tasks that a service dog performs must be in direct relation to the person's disability. Some U.S. states recognize miniature horses as service animals as well. However, other species, e.g. cats, rabbits, birds...etc., can not become service animals.
Service dogs in the US are protected by the Americans with Disabilities Act (ADA) which is a civil rights law. The nature of service animals, as well as the rights and responsibilities of service dog teams in the US, are explained on the ADA website. An important right, that the ADA provides dog owners with, is the right to train their pet dogs as service animals. In other words, owner/self-trained service animals in the US are recognized by law. They must be granted the same access rights as service animals trained by international organizations like Assistance Dogs International (ADI) or schools/organizations offering in-person training.
You can find more information about the ADA regulations here.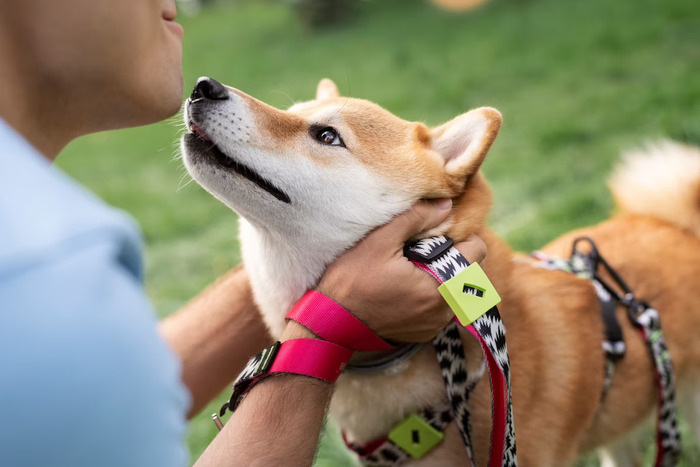 Types of Service Dog Training
There are many types of training programs and courses, but if we need to generalize the types of service dog training, they are:
1. In-Person Training;
2. Online Training.
The first type of training implies that the dog owner will contact a training organization, a school, or a professional trainer and will participate in an in-person training program / individual lessons.
The second option suggests that a person will enroll in an online program which in most cases includes tutor support. However, online training usually means that the dog owner will be more actively engaged in the process.
If you are wondering what way to go- in-person or online training, you might want to read the pros and cons of both types we will list below.
In-Person Training - Pros
An undeniable advantage of this type of training is the experience of professionals you will benefit from. A professional trainer(s) will train your dog properly knowing what steps to follow and how to adapt the process to your dog. They will also give you accurate pieces of advice on how to become a good handler and what to do to maintain the dog's progress. If you enroll in a group class, you might be able to share valuable information with other teams and learn more about their experience.
In-Person Training - Cons
In-person training is quite expensive, especially in some states, such as California. According to recent studies, the cost of living in CA is about 41% higher than the national average. If you enroll your dog in a group class, you can not be sure how much attention your canine and you two as a team will receive. Training schools and private trainers, offering in-person training, typically have specific requirements for the dogs they decide to engage with. Taking the schedule of the trainer into consideration is something you will need to be prepared for.
Online Training - Pros
Training your dog through an online program can be way more affordable than in-person training. You may need to spend a few hundred instead of a few thousand dollars. Online training will give you the opportunity to practice at a pace you and your dog feel comfortable with and not worry if other teams may perform better. Also, reliable online programs include support from trainers (even if online), which means that you still will be able to contact a professional tutor and ask for advice if you need to. Practicing at home or any other location of your choosing are further advantages of this option. Driving to a facility or an area where in-person training will be conducted, won't be needed if you opt for an online training program.  
Online Training - Cons
The big responsibility associated with online training is likely to scare dog owners the most. You as a dog owner will be actively engaged in the training and will have to learn together with your dog. This is a process that requires both parts of the team to be skilled and attuned to each other. Otherwise, it won't work. You will need to spend time practicing with your dog and put work and effort into the training. In the beginning, it may be a bit overwhelming and stressful to understand how exactly to conduct training properly. Moreover, your dog should have the right temperament for the job. If you are determined enough though and receive proper support from tutors, your work will pay off.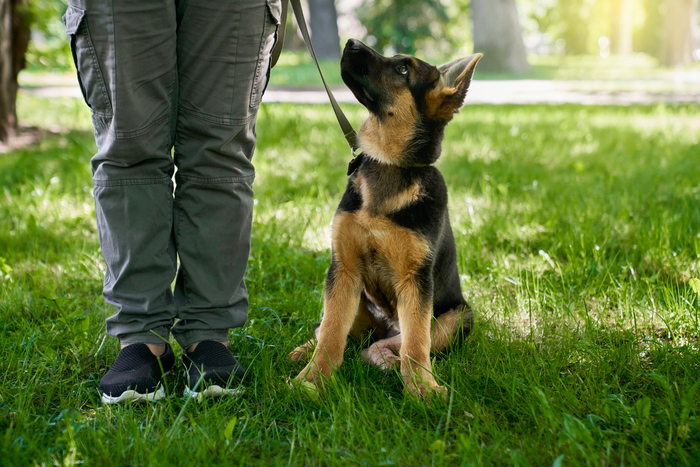 Service Dog Organizations / Schools in California
We will list several service dog organizations/schools based in California to help you find the most suitable one for you! Remember, that these are only a few of the organizations in California, offering service dog training. You can always do some additional research to find more information about these services in CA.
1. Skilled Mutts Company
Address / Areas Served: Los Altos and nearby areas
Phone: 408-656-5394
Website: https://www.skilledmutts.com/
Email address: andrea@skilledmutts.com
Services:  
Behavioral Training 

Service Dog & Skill Training
The organization mentions on its website that it offers tailor-made training plans for individuals based on their needs. Removing items such as socks, hearing an alarm or picking items up are mentioned as tasks that the school might help you train your dog in. The service dog training programs that the school offers are aimed at people with mobility or hearing impairments.
At the time of writing there is the following message on the website:
"Due to high demand, Service Dog Training is unavailable at this time. When scheduling is possible for new inquiries, this notification will be removed. Thanks for holding a Sit-Stay with us!"
2. California Service Dog Academy
Address: 18701 Lort Dr, Visalia, CA 93292, United States
Phone: 866-382-9917
Website: https://www.californiaservicedogacademy.org/
Email address: Live Chat
Services:  
This program is the flagship program of the school. There are two options within this program:
- Sentinel Dog Program for Veterans
This option is designed to help veterans and service members who are on active duty at no cost. The school can either provide qualified individuals with a Sentinel Service Dog or assist them to train their own dogs free of charge.
If you are interested in getting a Sentinel Dog, you need to check the school requirements for the program. Individuals:
-Must be Veterans or Active Duty Service Members;
-Must have a disability;
-Must be able to provide a DD Form 214 or other types of military service records;
-Must show a medical letter issued by a doctor recommending a Sentinel Service Dog;
-Must be ready to engage in the training process.
The school explains that individuals who already have a dog and want him/her to become a Sentinel Service Dog, are able to have the dog evaluated at no charge.
The second option of the Sentinel Program is aimed at First Responders and helps them free of charge.
-Sentinel Program for First Responders
In order to join this program, an individual:
-Must be a First Responder;
-Must be ready to engage in the training process.
The school clarifies that its representatives can evaluate dogs at no charge.
There are the following steps to follow if a person wants to train with this school:
1. Get a medical letter from a licensed health provider as proof of their need for a service animal;
2. Submit an application form;
3. Attend a 6-week handler course;
4. Have their own dog evaluated or be matched with a dog;
5. Start training with their dog under the school's guidance.  
Veteran Apprentice Program
It is designed to help participants acquire fundamental skills and a better understanding of positive reinforcement training.
In order to join this program, an individual must:
-Be a Veteran;
-Send a copy of their DD Form 214;
-Be interested in working with dogs;
-Be able to comply with the school's positive reinforcement training policy.
Care Dogs Program (Civil Program)
The school has started offering a program aimed at people who need a service dog but do not have any prior military service. This program offers people two ways to train a service dog:
-to have their own dog trained;
-to be provided with a service dog by the school.
The costs for each option vary.
There are specific requirements for this program. Individuals must:
-Have a legitimate disability;
-Have a medical letter issued by a licensed health provider;
-Live within 150 miles of Visalia, CA, or are able to come to visit the school's training program at least twice a month;
-Be 16 years old or older (individuals under the age of 18 years old must be accompanied by their support or legal guardian).
The school specifically explains that it does NOT train: hearing alert dogs, autism support dogs, guide dogs, and seizure alert or response dogs.    
Canines for Community Outreach (CCO)    
This is a program that is aimed at local businesses and organizations and provides animal-assisted activities, as a form of animal-assisted therapy. 
3.National Institute of Canine Service and Training
Address:
Training Center Address: NICST Nylabone Training Center, 1300 Willow Pass Ct. Suite B, Concord, CA 94520
Mailing Address: 1647 Willow Pass Rd. #157, Concord, CA 94520
Phone: 925-246-5785
Website: https://ourdogssavelives.org/
Email address: info@dogs4diabetics.com
Services: 
The school states on the website, that all the programs that it offers, require individuals in need of a service animal, to be highly engaged. Training and dogs are provided by the organization at no cost, however, individuals need to pay a fee of $250 for different types of supplies and administration costs.
The organization offers the following programs:   
As the name implies, this program is aimed at people who are in need of a Diabetic Service Dog.    
A principle-based approach is incorporated into training and both the dogs and the individuals are engaged in the process.
This program is designed to help people who have dedicated their lives to serving society in emergencies and crises.    
This program is focused on scent work in order to help people with various disabilities such as cancer.
The school's support groups include "TypeYOU," "TypeTEEN," and "Pumps & Sensors" which are designed to provide a safe place to share and unite.
4. Fun Paw Care
Address: 3079 Patricia Ave, Los Angeles, CA 90064
Phone: (424) 341-0166
Website: https://www.funpawcare.com/
Email address: la@funpawcare.com
Services: 
The school offers several types of dog training programs, including dog training, puppy training, therapy dog training, emotional support animal training, and service dog training.
The service dog training options are as follows:
-Psychiatric Service Dogs (PSD);
-Mobility dogs;
-Autism Service Dogs – Autism Spectrum Disorder (ASD);
-Hearing dogs.  
Service Dog Training Boot Camp Los Angeles (Board & Train)
The school offers service dog training at their facility (in a trainer's home) to help individuals with busy schedules benefit from training their dogs as well. According to the information listed on the school's website, some of the things that your dog will receive if being enrolled in this program, are:
-First-class service dog boot camp training in LA;
-Socialization;
-Enrichment;
-Training in specific tasks for a disability;
-Public Access Training.
2. Service Dog Behavior Modification, Troubleshooting & Obedience Task Training In Los Angeles
In order to be eligible for service dog training in LA, you must have:
-Completed at least one week of Service Dog Boot Camp;
-Enrolled in Russell's exclusive Members-only Club
The school clarifies, that individuals will receive a detailed service dog training and behavior analysis plan featuring supporting resources in addition to the one-hour session.
This program is available for members only.
3. Service Dog Training Phone / Video Consultations
During video/phone/email consultation, the school's trainer Russell will answer questions on various topics such as service dog training and behavior, differences between pets and working animals, and regulations, and give advice depending on the topic.
According to the information listed on the website, individuals will receive a one-hour session and a detailed service dog and behavior analysis plan including supporting resources.
A 1-hour session will cost you $495.
5. Working Dogs for Warriors
Address: 11251 Sierra Ave, STE 2E-333, Fontana, CA 92337
Phone: 909-767-1225
Website: https://www.workingdogsforwarriors.com/
Email address: info@WorkingDogsForWarriors.com
Services: 
The organization offers a variety of training programs, including:
-A Service Dog Program;
-A Board and Train Program;
-Public Training Classes;
-Doggie Daycare;
-Seminars.
The service dog process includes the following steps:
1. Application
Individuals must complete a service dog application and provide a copy of a medical letter and DD Form 214.
2. Interview
Individuals will go through an interview with the members of the organization in order to discuss their specific needs and the service dog tasks they are looking for.
3. Search for a Pup
Once a person gets accepted into the service dog program, the team members start searching for a pup that will be the best fit. The organization has networks of Rescues and Shelters that will be involved in the process.
4. Training
Individuals and their dog partners will have to go through 360 training hours or more within 1.5 years. 
5. Classes, Events, and Community
The organization encourages its students to participate in different events such as classes, and community outreach events.
6. Graduation
Upon completion of the program, the person and their dog will become a certified Service Dog Team, with a strong bond with each other.
The organization is registered as a non-profit organization.
If you are interested in their services, please keep in mind that their application is currently closed and they recommend that potential students check back in July 2023.
6. Doggie Do Good
Address: 335 Summit Station Rd., Arroyo Grande, CA 93420
Phone:
PH: 1 (877) K9-RULES (Toll-Free)
PH: 1 (805) 473-1701 (Local)
FX: 1 (805) 473-9128
Website: https://doggiedogood.com/
Email address: k-9@doggiedogood.com
Services:
The school offers:
-Dog Boarding;
-Dog Camp;
-Service Dog Training;
-Private Lessons.
The types of service dog training that the organization offers vary on the person's needs. Individuals who already have a dog may also be able to train him/her with the school's help. Of course, in this case, the school will need to evaluate whether the dog is a qualified candidate for this job.
All types of service dog training feature basic obedience including "sit", "stay", "heel", "come", "leave it", and "down".
People who can benefit from the service dog training programs offered by the school are:
-People who are wheelchair-bound;
-People who need mobility/balance assistance;
-People who need seizure assistance.
The service dog training is customized, and the school advises that interested individuals contact them directly.
7. 

K-9 Companions
Address: 13703 J J Ln, Perris, CA 92570
Phone: 800-870-5926; Fax: 951-780-2128
Website: https://k-9companions.com/
Email address: Contact form
Services:
The organization offers various services such as
-Basic Obedience and Manners;
-Service Dog Certification;
-Canine Good Citizen Testing;
-Advanced Obedience and Agilities;
-Level 1 Protection;
-AKC Conformation;
-K9 Boot Camp;
-Become a Dog Trainer;
-Free Consultation.
The service dog training options that the school offers are suitable for people with different health conditions such as:
-Mental illnesses such as anxiety disorders and PTSD;
-Mobility impairments;
If an individual is physically unable to be present for the training, their assistant, who will be engaged in the dog's care, must participate in the training.
The organization can conduct an evaluation of a person's dog, to determine whether he/she qualifies as a service dog or not. Proper assistance for the process of searching/rescuing/purchasing a pup will also be provided.
A medical letter as proof of an individual's need for a service dog must be presented.
Service Dog Training
According to the information listed on the website, the training will include:
-Basic obedience;
-Walking on/off-leash
-Canine Good Citizen training and testing;
-Public access training;
-Training in specific tasks (these can include: retrieving items, carrying objects; opening drawers, doors, and refrigerators; pulling on command; getting help; stopping at certain objects; barking to alert; finding scents; walking slowly to lead)
The training process is likely to take about 18 months if the dog is still a puppy or young.
Funding for Veterans
The organization offers funding to veterans who have been diagnosed with PTSD or other disabilities related to their service.
8. Dogpanion Dog Training
Address: Service areas include San Diego and surrounding areas: Coronado, Point Loma, Hillcrest, Clairemont, North Park, La Jolla, Mira Mesa, Poway, Del Mar, Cardiff, Rancho Santa Fe, Encinitas
Phone: 858-768-0314
Website: https://www.dogpaniondogtraining.com/
Email address: Contact form
Services:
The organization's services are not limited to service dog training, but also feature:
-Puppy training;
-Private training;
-Group Classes- Dog Obedience
The types of assistance dogs that the organization trains feature:
-Emotional Support Animals;
-Autism Assistance Dogs;
-Psychiatric Dogs;
-Mobility Assistance Dogs
The Service dog training process starts with:
1. Evaluation & Consult
During this step members of the organization's team will answer all the questions an individual who is in need of a service animal may have. They will also explain the service dog training step by step.
People who already have a dog, are able to have him/her evaluated by the school. Individuals who do not have a dog will be provided with information and guidance on the available options.
This step is likely to take about 1.5 - 2 hours. The costs are $150 (due upon scheduling).
Training will not be conducted during this evaluation.
The school clarifies that travel charges may apply.
2. Training
The first option you will have is:   
Private sessions can be conducted in the person's home or at a public facility. Each session will take about 1 hour and will be adapted to the person's needs. The school members will teach the person in need of a service animal and other members of the household how to work with the dog.
A 1-hour lesson will cost you $160;
The cost for a 6-lesson package will be $900.
Training sessions may be conducted back-to-back if a person prefers multiple-hour lessons. 
Travel charges may be applied.    
If you choose this option, you will be able to drop your dog off for a period between 4-8 hours and pick him/her up. During that time a trainer will work with your paw friend on certain behaviors and cues that you and the trainer have previously agreed to use. At the picking-up time, the trainer will show you what tasks they worked with your dog on during the day.
The costs for a 1-day training session are $200.
There are certain requirements for signed service dog teams:
-A Signed Service Dog Overview Agreement;
-Vaccination records (distemper, DHPP);
-Vaccination records for parvovirus will be required if the dog is younger than 4.5 months;
-Negative fecal test that was made within the last 6 months;
-After your dog has passed the CGC Test, a medical letter issued by a licensed health provider as proof of a person's need for a service dog will be required.


9. Athens Dog Training
Address: 
(Group class location) 2489 Washington Ave. San Leandro, CA, 9457
Pet Food Express
3385 Castro Valley Blvd,
Castro Valley, C.A. 94546
Pet Food Express
5108 Broadway, Oakland, CA 94611
Phone: 510-931-9257
Website: https://athensdogtrainingllc.com/east-bay
Email address:
Services:
The school offers:
-In-home Training;
-Group Classes;
-Board and Train;
-Service Dog training.
Non-Military Veteran Services
The school's non-military veteran service dog training program includes the following:
-Basic obedience;
-CGC preparation and test;
-Public access;
-Service dog skills.
Service dog teams that are interested in the school's program must go through an assessment first. Its goal is to evaluate the dog and whether he/she has qualities for service animal work.
Requirements:
-Service dog handlers must be diagnosed with a disability that requires a service animal;
-The service animal must be trained to do work to help mitigate the symptoms of the disability. 
The school also offers services for people who are not disabled but would like their pet dog to be trained to the same level of performance.
Further information can be found on the website or if you contact representatives at 510-931-9257.  
Disabled Veterans /Charlie Mike Project
In November 2021 the school started offering free training courses for veterans. Individuals can participate in these courses by invitation only. People who are interested in these training programs but have not gotten invited should attend the group class service dog orientation.
Veteran Training Course Location: Pet food express Castro Valley: 3385 Castro Valley Blvd, Castro Valley, CA 94546 
This project is designed for veterans who have completed a service dog training program and whose dog has qualified as a service animal. If you are among these people and you would like to give back to the veteran community, this program might be of interest to you. 
According to the website: "We offer a special opportunity to give service and receive free education in the pet industry with the goal of becoming a certified dog trainer".
You can read more about the project's curriculum here.
The project's goal is to offer veterans opportunities for work experience, and a potential career.
10. A Veteran's Objective
Address: Irvine, California
Phone: 949-519-0005
Website: https://aveteransobjective.org/
Email address: vetsobjective64@gmail.com
Services: 
The organization offers:
-Assessments;
-Pet Training;
-Service Dog Training;
-Zoom Online Consultation.
The service dog training program that the school offers is aimed at handler-dog teams who need specialized training. 
In order for an individual to participate in the service dog training program, and book an appointment first they need to:
-Do the assessment;
-Discuss the tasks they need their dog to help them with.
The training will require no less than 360 training hours and may take about 2 years to be completed.
Group Classes take place in:
-Mission Viejo (Tuesdays);
-Irvine (Wednesdays);
-Long Beach, Lakewood (Fridays);
-LBX (Saturdays).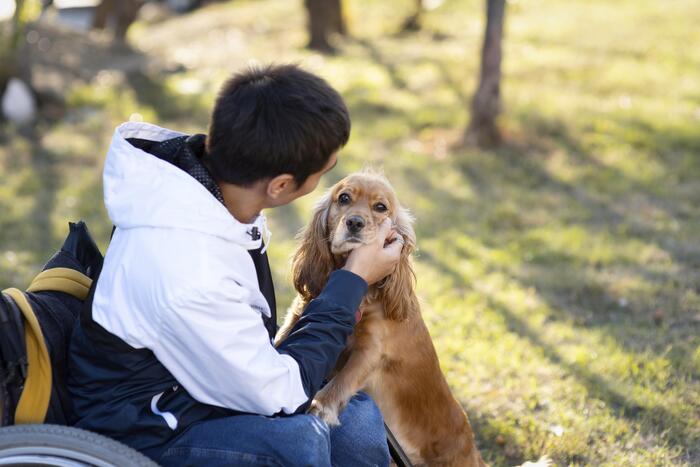 Service Dog Online Training
If you are ready to show discipline, commitment, and patience, an online program might be the right fit for you. It will definitely bring you an unforgettable experience and help you spend time with your dog. Depending on your needs, you can choose a program that includes specific service dog tasks.
We will list several service dog training programs that ServiceDog Training School offers on the website, which you might be interested in:
This program is focused on tasks that alleviate the symptoms of mental disabilities like anxiety, depression, and PTSD.
Tasks such as providing Deep Pressure Therapy, tactile stimulation (i.e. nose-nudging at you, giving a kiss), crowd control, preventing emotional overload, interrupting repetitive behaviors, finding an exit and guiding the owner to a safe place, and alerting to anxiety are included.
This course is mainly focused on mobility assistive tasks, such as retrieving, opening/closing doors, standing up on two feet, and pushing a cart, as well as allergen detection.
Medical Alert Dog Training Courses, including:
The medical alert training programs are based on scent training and their goal is to help people train their dogs to recognize a specific scent and alert them to it. This will notify the owner that an episode is about to occur, so they can be prepared.
Bundles, including:
These bundles include a service dog course and an air travel program, which will be helpful for trained service animals with no or little training experience in an airport environment.
If your dog already has some training background, and you would like to turn him/her into your Psychiatric Service Dog, this program might be the best fit for you! The attorney letter which is included in the course will also be helpful to those of you, who want to avoid any issues related to proving the legitimacy of your service animal.
The Public Access Test Course includes various tasks to prove your service dog's excellent manners in public settings. You will need to submit videos of your paw friend showing him/her interacting with strangers, exploring a building, visiting a restaurant...etc.
This course will help you teach your pup the basics, know him/her better as an individual, and also evaluate whether he/she is a good candidate as a service dog or not. Addressing some behavioral issues common in pups is also included in the program.
All service dog programs feature basic obedience training, which is mandatory for service dogs. If you are interested in all the courses available on the website, you can find them here.
All courses feature tutor support, informative theoretical and practical materials, and flexibility so that individuals with busy schedules can benefit from them.
Whether through an online training course or a school/trainer that offers in-person training, you should remember, that you and your dog will be part of the same team. Both of you will need to work toward the same goal and namely- to become an excellent service dog team!