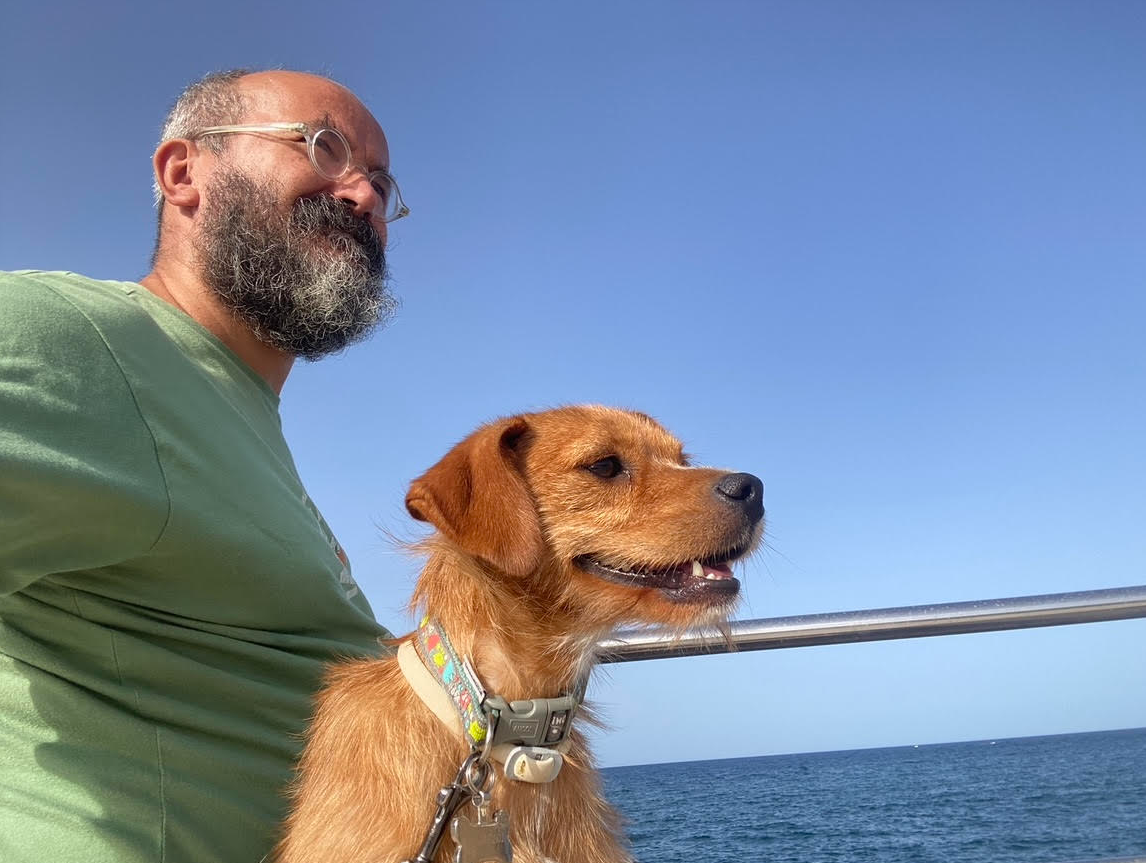 Since I enrolled in the training course online, my little dog Fido and I spent numerous training hours perfecting the assistance tasks that are greatly improving my mental health and continuously contributing to building mutual understanding and a special bond with Fido. 15 years ago I was diagnosed with Non-Hodgkin lymphoma (a type of blood cancer). Chemotherapy was very hard on my body and mentally I found myself in a continuous state of anxiety and unable to see a positive future.
Eventually, chemotherapy worked and my body was clear of the cancer. My body recovered but I developed anxiety and severe depression as one of the side effects. Soon I did not know how to deal with my panic attacks and was constantly hating myself for not being able to cope. I refused to admit to myself that I had mental health problems and I struggled with fighting to retrieve my old " happy " life. Eventually, I pluck the courage to visit the family doctor and ask for help. In October 2021 we lost our dearest cat Spike who passed away after 16 years of our life together. My partner and I were left with a huge emptiness in our lives and my mental health deteriorated again spiraling down into more panic attacks.
In January 2022 we decided to open our house to a new member of our little family and welcomed a 4-month-old Terrier Mix (Norfolk/Border Terrier) puppy into our lives. We named him Fido and since day one happiness and unconditional love returned to our house. At 5 months of age Fido and I embarked on an intense socializing and basic training course with the local puppy school. He completed the training with flying colors and I started looking for further opportunities to train him as my mental health service dog. I work as a teacher and was incredibly lucky to be allowed to take Fido with me to school every day after he was gradually introduced to a very busy and noisy environment. He took upon his new task like a duck to water and soon the principal of my school suggested I start a service dog training.
After some unsuccessful encounters with a couple of dog trainers, I decided that the best person to train him was me. My family doctor suggested I tried this online dog training school and that was the best decision for Fido and myself. The school program provided me with the confidence and structured program that gave me a very positive view of the future. It was a lot of hours and hard work (with inevitable frustrations and failures) and in the end, Fido and I "clicked" and I could see the weekly improvements and positive outcomes. The school recommends 120 hours (we spent approximately 150) of structured positive reinforcement training tasks and very useful tips. Fido and I are very happy with our progress and the very successful completion of the program.
We are definitely not finished — will continue working and improving building skills we were taught in order to create an even stronger bond and understanding between my little paw pall Fido and me. The best decision I made was giving a try and enroll in this course. I am confident that when faced with an unpleasant and stressful situation I will be able to calm myself down and cope with the help of my little friend Fido. By continuing regularly working and practicing with Fido I am certain I will be able to fully rely on his assistance when needed.