Service dogs are working dogs, individually trained to perform specific tasks for the benefit of an individual with a disability that is directly related to that disability. As working dogs, service dogs should not be petted and distracted so that they can stay focused on their owner. Some people may not realize what an important role service dogs play for the health and safety of their owners and are likely to behave inappropriately when around a service dog. In order to interfere with any interactions by passersby, many handlers decide to put different types of service dog equipment on their paw friends, in order to make them easy to identify.  
In today's article, we will answer questions such as: is wearing a vest/harness or any kind of service dog gear mandatory, what are the pros and cons of wearing a service dog gear, how to choose the right type of vest/harness for your dog and what types are available on the market.
Is Wearing a Vest Mandatory for Service Dogs?
The Americans with Disabilities Act (ADA) does not require service dogs to wear a vest, a harness, or any training gear for identification. "The ADA does not require service animals to wear a vest, ID tag, or specific harness." For more information about the ADA regulations, you can click here. If you are a non-US citizen, you may need to check the regulations in your country in regard to service dog identification accessories while in public.
However, since ADA allows handlers to not put vests/harnesses/ID tags on their service dogs, you may wonder why wearing of any identification gear is recommended by many trainers.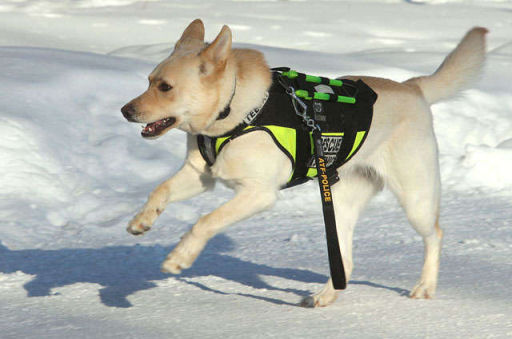 Pros and Cons of Wearing a Vest/Harness
While you and your dog are in public, you are likely to be approached by passerby, who may want to pet your paw friend and express their joy at his/her loving appearance. Even when well-intentioned, these actions may distract your dog and he/she may miss an oncoming episode of anxiety, panic attack, loss of balance...etc. Although service dogs go through individual training to learn various tasks in order to assist their owner, including focus commands and ignoring distractions, unexpected situations may occur. Hence, you may want to be sure that you can rely on your paw friend at all times. Once passerby recognize your dog as a working dog, due to the vest or the harness he/she wears, they are less likely to initiate a contact. Passerby should be considerate when approaching a working dog and behave respectfully. Also, service dog vests/harnesses may be helpful when entering a public premise or flying on an airplane. Employees are more likely to be well-disposed to your dog and not call its legitimacy into question, when he/she wears service dog equipment. Of course, service dogs must behave properly while in public, otherwise they may be denied access. Service dogs who wear a vest/harness send a direct message to passerby that they are obedient, socialized and there is no need for them to be afraid. 
Although the clear identification of a dog as a service dog may help you avoid unwanted interactions and contribute to the dog's representation before employees, it may draw attention to you. Inconsiderate passerby may want to ask you questions about your disability and the tasks your dog has been trained to perform. Of course, you have the right to not answer these questions and explain in a friendly manner that your dog is currently working and should not be interrupted. There are also different types of vests/harnesses based on the type of assistance and tasks that he/she performs, i.e. therapy dogs (who are not considered service dogs) may be seen wearing vests with the logo of the organization/facility they work for, guide dogs are likely to wear a vest with "Guide Dog" writing...etc.
However, when you enter a public premise, employees are allowed to ask you two questions, whether your service dog wears a vest or not:
1. Is this a service dog due to a disability;
2. What tasks he/she has been trained to perform.
If you think that wearing a vest or a harness will be helpful for you while in public, you may want to know more about the gear types available on the market and how to choose the most suitable one for your dog.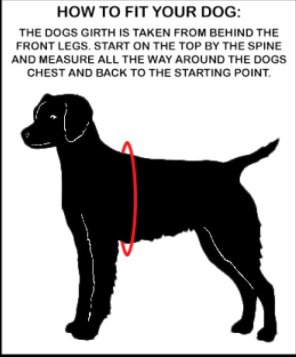 Things You Need to Consider When Choosing a Service Dog Vest or a Harness
The size of your dog is maybe the most important factor that you need to pay attention to. We would recommend that you take a look at the chart below in order to ensure that you measured your dog's girth circumference correctly prior to purchasing any gear.
You should also consider the tasks that you would like your canine to perform- tasks that are more physically demanding require the dog to have a strong physique and be equipped with an appropriate vest/harness.
If the tasks that the dog will perform are more mentally-related, i.e. you may need a Psychiatric Service Dog, you do not need to put on your dog a special type of vest/harness that guide and mobility dogs usually wear. Hence, it will not need to be sturdy and fitted with a handle.
The tasks that a service dog has been trained to perform are directly related to the service dog type- a Guide Dog, a Psychiatric Service Dog, a Diabetic Alert/Responding Dog, a Seizure Alert Dog...etc. There are types of dogs, who are not trained to perform specific tasks, but trained to be obedient and well-behaved in different types of facilities like hospitals (Therapy Dogs) or provide comfort to their owner (Emotional Support Animals). If you would like to identify any of these as a type of assistance animals, you may also consider putting a vest/harness on them.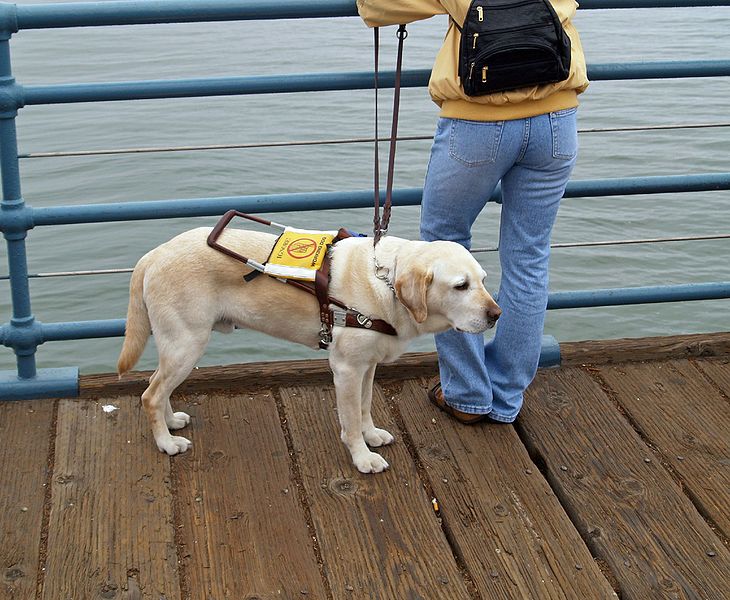 Types of Service Dog Vests/Harnesses
1. 

Brace

 

and Balance/Mobility 

Support Harness
As the name indicates, this type of harness is usually used by service dogs who help their owners with mobility and balance tasks. In order to serve this purpose, this type of harness is equipped with a robust handle or a stable pull strap and should be fully ergonomic for both a handler and a dog. Since your dog fulfills balance/mobility support tasks, you should make sure that he/she feels comfortable and choose a harness of the correct size. Also, you should take your paw friend to a veterinarian for regular checks, so that you can ensure that your dog is healthy and able to perform the required tasks. You should always provide your dog with enough time to rest and relax and food of high quality which is essential for the health of balance/mobility dogs.
2. 

Cape Vests
There are no specific requirements about the service dog types that may wear cape vests- they could be large or small breeds and may perform various tasks. Usually, cape vests are put on service dogs in training while they are still young. These vests are typically fitted with straps in the belly and chest area so that they can stay put. There is a variety of sizes and fabrics (cotton, nylon, canvas...etc.), so you can choose the best one for your canine based on his/her size and on the temperature outside. 
3

. 

Cape Harness
Cape harnesses are ergonomic and more robust than cape vests. They come in different designs, i.e. equipped with a handle or not. Usually, they come with side D-rings so that you can easily add a pull strap to the them. You can choose from many colors and sizes in order to find the right one for your dog. Also, most designs allow you to add cape harness patches. 
4

. Pulling Harness
Handlers with impaired mobility often put this type of harness on their service dogs to enable them to pull a wheelchair, move objects (usually heavy) that the handler is unable to move, or open/close doors/cupboards. Usually, dogs of larger breeds who have strong physiques are able to fulfill these demanding tasks and are more likely to be seen wearing this type of harness. Pulling harnesses are frequently fitted with Y-straps between both front legs of the dog and over his/her shoulders and typically are fastened by a strap around the belly area.
US citizens have the right to choose whether to put a vest/harness/ID tags or any type of service dog gear on their dogs or not. Passersby and employees should show respect to handler-dog teams at all times and handlers on the other hand, should always be able to control their dogs and make sure that they behave properly while in public.