Service dogs are an important part of the lives of persons with a disability, as they provide different tasks for the benefit of these persons in order to enhance their lives. We have discussed in our previous articles different aspects and topics in regard to the requirements that every service dog needs to meet. We would like to reaffirm the most essential ones.
What are the main requirements for a service dog?
-An individual may have a service dog if they have a physical, sensory, psychiatric, intellectual, or other mental disability;
-A service dog must be trained to perform a specific task, directly related to the individual's disability;
-A service dog must behave properly and be well-mannered;
-A service dog handler may be asked two questions about the service animal:
Is the dog a service dog because of a disability;
What tasks is the service dog trained to perform;
There are no requirements in regard to the identification of service dogs. However, they would be easier to recognize while in public, when they are wearing a vest or other identification accessories.
Some of you may ask if there are also age requirements for a dog to become a service dog.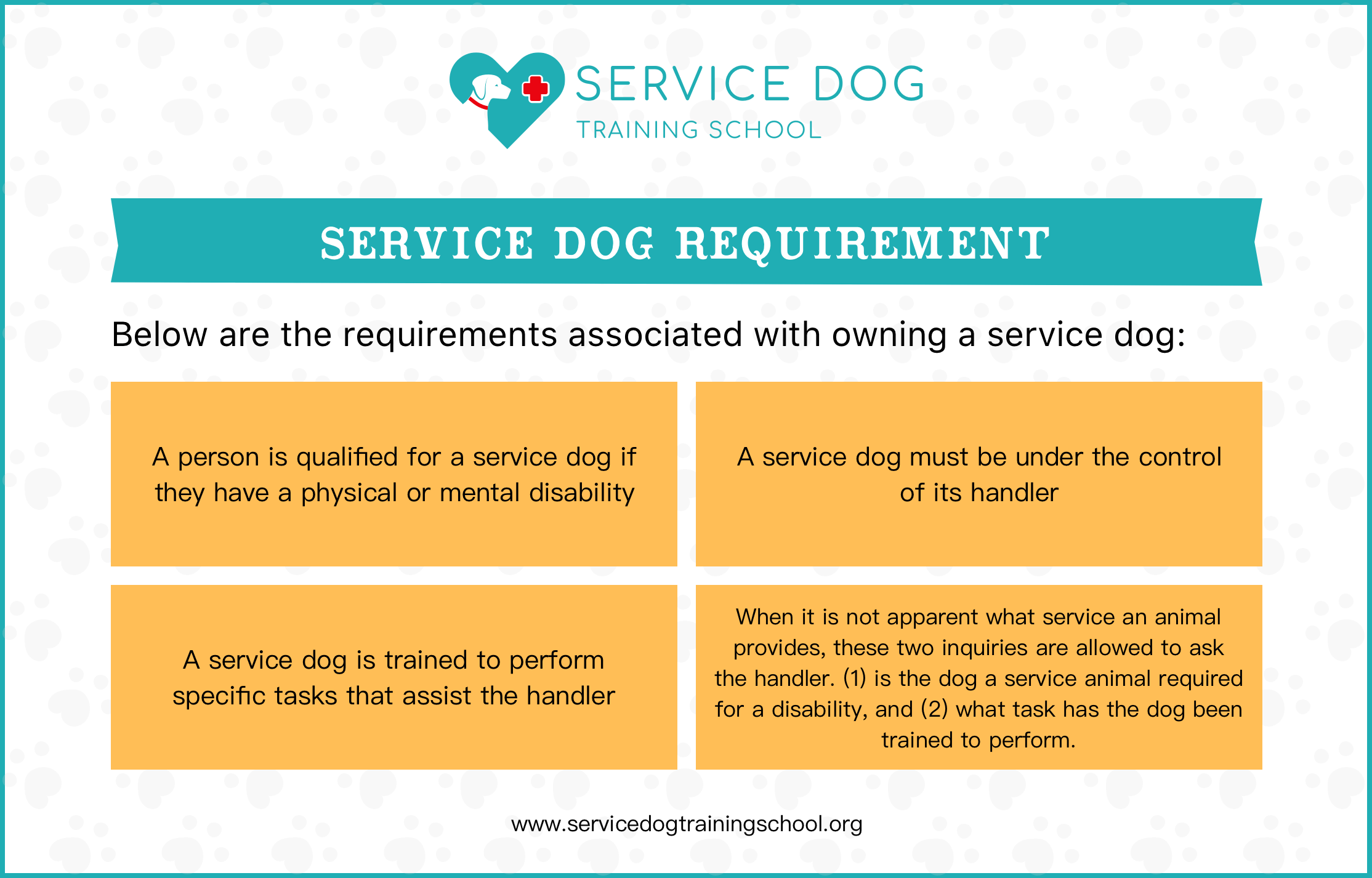 Is there a minimum age for a dog to be trained as a service dog?
Yes, a dog should be at least 6 months old and he/she should have passed the puppy phase in order to become a service dog. We need to mention that some airlines like United airlines accept service dogs in the cabin at the minimum age of 4 months.
According to the information listed on the website of United airlines:
"Service animals are accepted in a cabin for qualified individuals with a disability. A service animal is a dog, regardless of breed or type, that is
- over the age of 4 months
- individually trained to do work or perform tasks for the benefit of a qualified individual with a disability, including a physical, sensory, psychiatric, intellectual or other mental disability".
However, the development phase is deemed actually so or even more important, as the chronological age. It is because of the differences between the breeds and the individual dogs as well as the different development speeds. With that in mind, you need to pay attention to your dog as an individual and to rate his/her own progress.
What is the best age for a dog to become a service dog?
The optimal age for a dog to become a service dog is considered the age of 2. This is the "adolescence" age stage and it matches the age of a 12-14 years old person. Why is this age considered the most suitable one for a dog to be trained as a service dog?
Dogs have finished their physical growth development and they are not likely to expand the size they have become at that age. It is recommended that you wait for your dog to get 22 months old (sexually mature), in order to ensure that the growth plates on the bones have closed. This usually happens near the end of the puberty phase. Any harder tasks, especially mobile tasks, like pulling a wheelchair, could be required after this age period so that skeleton injuries can be prevented.
After a pup has obtained basic skills and managed to perform certain tasks, the public access training starts. The goal of this training is to verify the ability of your dog partner to successfully perform tasks in public. This may take from 6–9 months, however, many training program dogs are fully trained at about 2–3 years old.
In regard to the mental stage of development dogs at the age of 2 are deemed most suitable, as they are able to focus on certain tasks, but do not feel any pressure due to imposed responsibilities.
This adolescence phase is a perfect time, when your dog may have already obtained social and obedience skills. This is very helpful for the training process for a service dog as your fluffy friend has experienced different situations on a daily basis and knows how to learn from a human and how to perform tasks.

Is the early life of your dog partner important for the training as a service dog?
It is very important for the dog's life and his/her social skills to meet new people, and dogs, and to experience new situations regularly. This experience is one of the bases for healthy development and happy life. Your dog needs the freedom to explore new places and objects in order to become a confident adult with a stable emotional state. The experiences and the early life of the canine will be taken into consideration when he/she is being trained as a service dog. The healthier the raising environment is, the better will be the results that your pup will show during the training process. It is likely for pups raised in farms (rustic environment) to be able to deal better with inner-city daily situations as adult dogs compared to dogs raised in an urban environment. It is because of the time the dogs from the first group could spend exploring new areas, objects, situations, and gain experience.
What is the average retirement age for a service dog?
In most cases, a future service dog spends his/her first two years in training for a service dog. The age period from 2 to 10 years may be considered the average period a service dog is able to work. The years after the 10th birthday are considered a retirement phase, where a service dog is no longer working as a service dog and can spend the rest of his/her life as a pet.
There are some schools for service dog training, that require handlers to retire their service dogs around the ages of 10 and 11. Dogs have to be retired before or on these birthdays. Other training schools do not have certain requirements and the retirement age is up to the handler.