Psychiatric Service Dogs are trained to help people with mental health problems like anxiety, panic attacks, PTSD, bipolar disorder, autism, and more. PSDs, for short, are usually trained by professional trainers or dog training schools. However, there are courses you can purchase and train a PSD at home for a fraction of the cost compared to professional training. We should add that some governments accept and others don't accept self-trained service dogs on their territory. Obtaining a psychiatric service dog can be very costly in some cases and relatively affordable in others.
What Are Your Options?
This depends on where you live since most provincial governments accept service dogs only from a few organizations like Assistance Dogs International (ADI) and the International Guide Dog Federation (IGDF) – which are recognized internationally. Then you have the MIRA Foundation, the Lions Foundation, and the PACCK Foundation which are recognized only in Canada. Some territories have laws that directly address service dogs while others do not (examples of that are Ontario and Yukon). We want to add that some provinces allow self-training a service dog explicitly while regulations in some territories don't make any distinction between self-trained and school-trained service dogs (examples of that are Alberta and Prince Edward Island.). If you have read through the article so far you might be properly confused by now. That is why we have an extensive article on the service dog laws in Canada right here.
TLDR – Lets Summarize
Depending on your location it might be possible to train a Psychiatric Service Dog at home or you will have to reach out to a dog training organization like those mentioned above. The second scenario is pretty self-explanatory – you call a dog training school and ask how you can obtain a PSD and what the waiting is like. The school will then work with you to formulate a suitable training program and pair a dog with you. The training may take from a few months to a year and maybe even two years. You might need to travel a lot to the school grounds for training sessions. You might have to fundraise, take a loan or use a medical aid grant to finance the purchase of a trained service dog. There may be further steps to take to register your newly acquired service dog if you are based in British Columbia.
Should you proceed with the self-training approach you will have to look for a dog with a calm and friendly character to start training. Your pet dog is likely to be an excellent fit for the job if you do not want to look for a young puppy to train. A person looking to properly train a Psychiatric Service Dog might wish to consider enrolling in an online course or working with a local dog trainer. The online course is likely to be cheaper and fit your daily routine better. Most online courses will require you to submit photos and video recordings of your training before you receive a certificate. Some online schools may include an extensive collection of videos and others may offer presentations as core teaching tools. Student support is usually provided via email, or live chat and some may offer support via virtual meetings and phone. A novice service dog trainer/handler will need a leash, treats, a decent camera or a modern smartphone, a web browser with a stable Internet connection, and strong motivation.
Is an Online Course a Viable Option?
Yes, online courses can be a very affordable and reliable way to conduct training and obtain certification for a Psychiatric Service Dog in Canada. We want to stress that self-training a service dog through an online course in Canada is not widely allowed so please check your local laws in advance. Most online courses for service dogs are up to a thousand Canadian dollars and many courses start from about 450 CAD. Depending on your living arrangements and financial situation some online schools can offer special discounts so do not be shy to ask for a payment plan or any discounts currently on offer.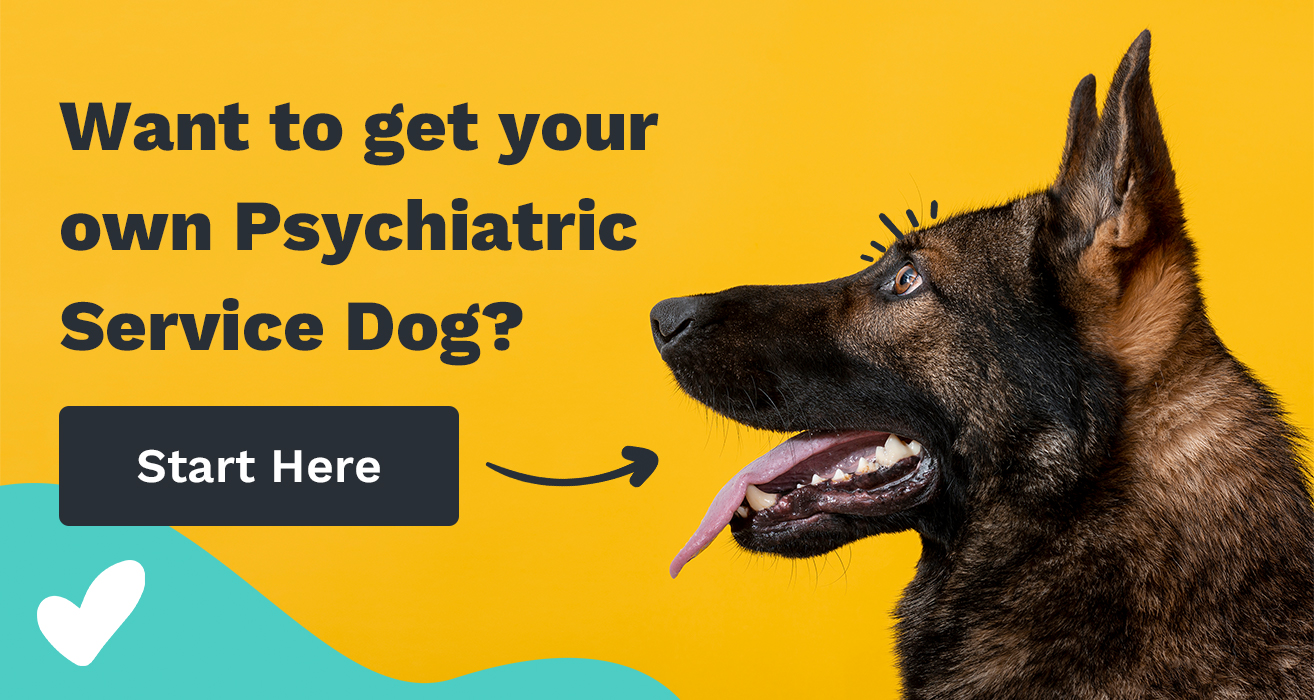 What to Expect at the End of an Online Course
An online dog training school is likely to provide a certificate in digital and physical format (hard copy). Your online school of choice will most assuredly have an online registry where the service dogs that finalized their training will be featured. Each school has differently styled certificates but what is common is that the certificate will display a registration number (or a certificate number) that anyone will be able to check online. A certificate number linked to an online registry is a must in our digital world as we often need to travel and represent our service dog to the wider world. Airlines and other transport companies can use your certificate number to quickly verify the status of your dog.
A service dog certificate is usually valid for the entire life of the service animal. You may also be provided with a service dog ID card that can be carried in your wallet or you might need to buy that separately. Most countries and provincial governments do not require a card but it can be a useful tool to represent your service dog and guarantee their good manners and training.
If you have more questions, please refer to our blog for answers or reach out to our team.