As the summer approaches, many of us are looking forward to taking a well-deserved vacation. Whether it will be at the beach, in a new city to explore, or on a hike in the mountains, planning your trip in advance can significantly reduce stress and ensure a positive experience.
This is especially valid for trips, where you are planning to bring your Psychiatric Service Dog (PSD). Since service animals play the role of medical equipment and not pets, it is quite reasonable for people who require assistance due to a mental disability, to need their PSDs by their side. 
As you may already know, service animals are dogs who have been individually trained to do specific work or tasks for the benefit of a person with a disability.
In today's article, we will give you helpful tips on how to prepare for a pleasant and stress-free vacation with your Psychiatric Service Dog.
Choose a Suitable Location
Since we are talking about trained service dogs, even hotels or other types of buildings must allow your PSD access to the premises. By "suitable" location, we mean a place, where your dog will feel comfortable in terms of areas to walk, exercise, rest, and relax. Based on the breed, health, and energy level of your dog and their lifestyle in general, you need to make sure that your vacation will be as pleasant for your dog as it is for you.
If you are still practicing some tasks with your service dog such as staying focused on you, and you are not 100% confident in their skills to ignore many distractions at the same time, you may want to opt for a rather quiet location with enough place to practice.
Vaccinations and Parasite Control
You should make sure that your service dog is up-to-date with all the necessary vaccinations and has gone through parasite control in case you intend to leave the country.
Microchipping
Based on the location, your service dog may need to be microchipped, so you need to check the regulations in advance.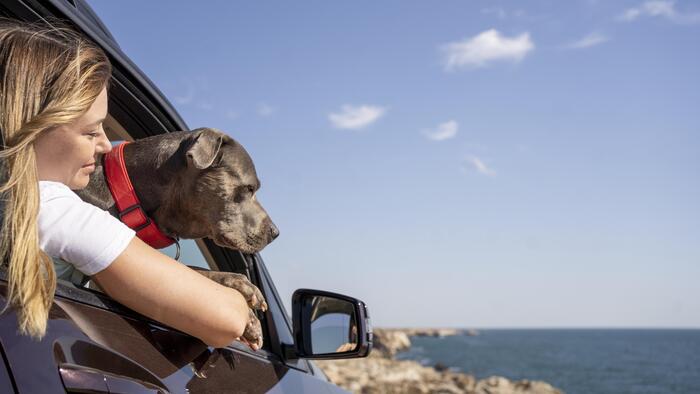 Medical Letter
A medical letter helps verify the need of a person for a service dog, including a Psychiatric Service Dog. In this case, you need to consult a licensed mental health professional who can diagnose your mental illness and issue a doctor's note.
According to the laws in many countries like the US, such documentation can not be legally required. However, the liberal laws that protect service dog teams are sometimes abused by individuals who want to have their dogs entitled to public accommodation. This causes many business owners to require documentation as proof of the person's need for a service dog.
It is worth noting, that only licensed health professionals can issue this type of letter, and it must be written on an official letterhead that includes the name, license number, address, and signature of the health provider.
Consider the Transportation Options
Consider the options you have in terms of transportation- a plane, a train, a car, a bus, etc., and make sure that your service dog meets the requirements of the transportation company.
This especially applies to traveling on a plane, as it is usually hustle and bustle.  The Air Carrier Access Act in the US prohibits discrimination against individuals with a physical or mental disability. 
However, you should make sure that your service dog meets all the requirements of the airline to be accommodated. This encompasses the requirements in regard to size, breed, health, and training.
Service animals need to sit under the footprint of the handler's seat and not disrupt the access to the aisle or the exit row. If your dog is of a small breed, you may be able to have it in a sitting or lying position on your lap. 
If they are of a large/ extra large breed though, you should check with the airline what your options are. They can not deny your service dog accommodation, however, you may be limited on what types of seats you can take. They may offer you to transport your dog in the cargo area, which is most cases not convenient for service dog handlers.
When it comes to breeds, as a general rule, there are no restrictions on what types of breeds can become service animals, at least not in the US. However, depending on the country you are based in or that you want to travel to and on the airline, certain breeds may be restricted.
For instance, it is not uncommon for airlines to restrict short-muzzled breeds due to possible respiratory issues that can occur. The same is valid for certain breeds, considered "aggressive". It is always worth it to check the policy of the airline in advance.
Considering health as a factor, you should make sure that your service dog is healthy and has gone through a veterinary check-up prior to traveling. If you will be flying within the US or from/to the US, you will need to fill out a DOT form, that requires information about the veterinarian and your dog's last vaccination.
Service dog training is another important component of the process of preparing a trip with a PSD or a service dog in general. Depending on the country of departure, the country of arrival (and the local laws too), and the policy of the airline, a certificate as proof of training may be needed.
The laws in the US do not require service dog handlers to have any documentation as proof of training. However, as mentioned above, many individuals have tried to abuse the laws, which caused employees, business owners, and airport agents to be more cautious.
Having a certificate can help prove the dog's legitimacy as a service animal and ensure an easier and more pleasant interaction with the airport agents. Make sure to check what types of training programs are accepted as based on the regulations, you may need to show a certificate issued by a member of Assistance Dogs International (ADI). Luckily, this is not needed for many itineraries, especially for flying within or from/to the US.
If you are planning to travel on a train or bus, you should also make sure that your Psychiatric Service Dog meets the requirements to be transported.
If you would like to go on a long trip with your own vehicle on a long trip, then you should consider making short stops for potty breaks, and regularly giving your dog water. This is very important, especially for trips in summer.
You should never let your dog in the car for a long time in the hot season, as the temperatures inside a parked vehicle can reach up to 138 °F / 59 °C.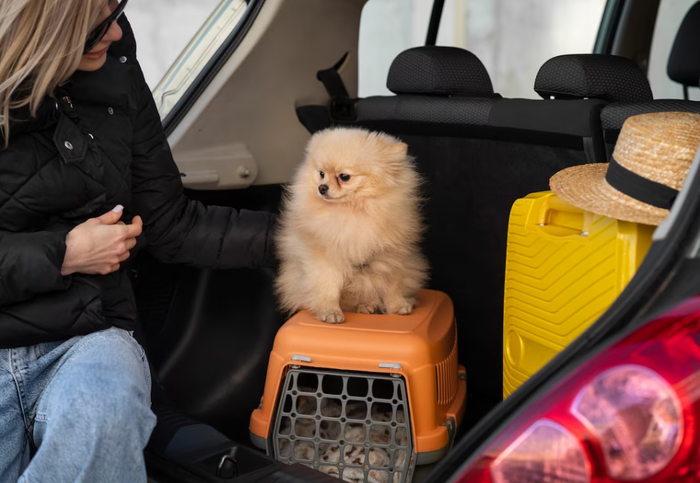 Supplies
Have you prepared all the necessary supplies not only for yourself but also for your service dog? You should never forget that your Psychiatric Service Dog is still a dog, who has their own needs. Make sure to prepare your paw friend's food; water and food bowls; leash; collar; any service dog training or identification gear you may need or want to put on them; toys; bedding; poop bags; and pee pads or diapers if your dog won't be able to go potty for a long time.
First Aid Kit
If you are careful enough and if your service dog is really well-trained (as they should be), problems should not occur. However, you can never be sure what situations can occur, especially in an unknown environment. It is advisable that you prepare a first aid kit for your dog. You can find more detailed information in our article "Dog First Aid Kit".
Sun Cream (for Summer Vacation)
If you are planning your summer vacation with your Psychiatric Service Dog, you should prepare sunscreen not only for yourself but also for them. There are of course products specially designed for dogs to protect their skin in the hot season.
Also, you should be cautious of the time of the day you are taking your dog for a walk. It is advisable that you avoid going outside with your dog at noon, especially on hot surfaces like concrete, which may injure your dog's paws.
Contact the Hotel / the Place Where You Will Stay in Advance
Even though a service dog can not be denied access to housing, you should always contact the management of the place you will be spending your vacation in advance. Certain accommodations may need to be made, so you can bring your dog.
It is essential for you to know your rights as a service dog handler and your dog's rights as a service animal. However, it is also important to be considerate when taking your dog in public places, especially when on a trip, and make sure that you are well-prepared for all types of situations.
As you embark on your vacation, remember that planning ahead is key to a stress-free experience for both you and your service animal.