Traveling with a dog could be a challenging process that requires many things to be considered. You will need to take into account factors such as the physical and emotional state of your dog, the airlines' requirements, the laws in the country of destination as well as the money you will have to spend to ensure the safe transportation of your beloved paw friend. Traveling with a dog could be very stressful for both the owner and the animal, so you may want to be prepared prior to taking your pet on a trip. 
We will help you prepare properly for a flight with your dog and will list several essential things that you may need to pay attention to.
Is It Really Crucial to Take Your Dog on a Trip?
Many veterinarians do not recommend that you fly with your dog, as it can be really stressful for him/her. When taking your dog on a trip, especially on an airplane, you expose him/her to a totally different environment, that he/she might not be used to crowded airports, new noises, smells...all these things may lead to anxiety and stress. Unless you will not spend several weeks or more away from home, you may want to contact a daycare center or ask a family member/friend to take care of your canine until you return. We should think about our pets' needs and provide them with support and care the same way they do it for us. Of course, if you move to a new home or will be absent for longer periods of time, you will need to bring your canine with you.
In What Airplane Section Will Your Dog Travel?
In general, you have two options- to take your dog with you in the passenger cabin as a carry-on or to let the airline accommodate him/her in the cargo area. Many pets have been transported in the cargo area without problems. Although airline representatives may not allow pets to travel in the cargo hold if potentially dangerous situations may occur, you still can not be sure under what conditions your pet will travel. Logically, most owners want to make the flight for their pets as comfortable as possible and bring them to the passenger cabin.
If you opt for the second scenario-taking your dog in the cabin as a carry-on, you will need to check the rules in regard to this matter. Your dog will need to stay under the seat in front of you, so you have to make sure that he/she will fit in. Also, you may be required to put your dog in his/her kennel. In general, we would say that you should take your canine's size into consideration.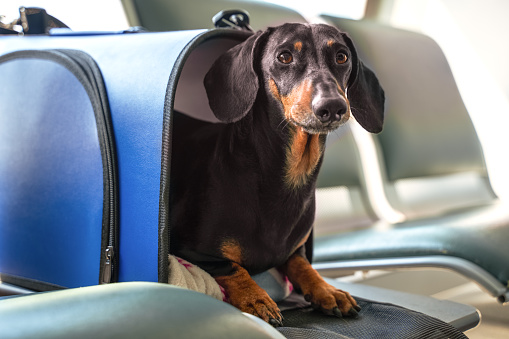 Carrier Requirements
As we mentioned above, airlines require pets to be put in a carrier, under the seat in front of you, when traveling in the passenger cabin. The carrier should be ventilated, and your dog should have enough space to lie down, turn around and feel comfortable during the flight. The carrier needs to be neither too large, nor too small. You can choose among a variety of models on the market, based on the material they are made of (robust or soft), and the design (with or without wheels, equipped with one or more exits, sling designs, backpack designs...etc.). However, when picking up the best carrier for your dog, you need to take both his/her comfort during the flight and the requirements of the airline into account. Usually airlines have a separate section on their websites named "Travel with Pets", where you can find their requirements in regard to the pet carriers allowed in the passenger cabin. 
Restrictions in Regard to the Animals Allowed on Board
Once you decide that your pet will need to accompany you on board, you should check the restrictions based on the aircraft, cabin, and seat thoroughly. We will list a few examples of what these limitations could be:
-What is the maximum number of pets allowed in the cabin and on the aircraft in general (you may need to book your flight early to ensure that your dog will be accommodated);
-Are there breeds banned by the airline (there might be restrictions in regard to the allowed species as well);
-What cabins/ classes are pets not permitted in;
-What is the minimum age of the pets that can be transported on the aircraft;
You should keep in mind that you may be unable to book a seat on the aisle or the emergency exit, as access to these areas must not be obstructed.
Documentation Required by Airlines
It is essential to be familiar with all documentation that the airline requires prior to departure to ensure that your dog will be permitted on board. This documentation may include your pet's full vaccination records, health declaration and microchip number.
We highly recommend that you check the import requirements of the country of destination, in case you travel internationally. Also, you should make sure that there are no pet import restrictions in these countries.
Timely Manner
Even if you have prepared all the documentation and have met all the requirements of the airline, if you do not submit this in a timely manner, your pet may be denied access. We will quote some requirements of American Airlines in regard to the time frame when owners need to submit the necessary pet documentation:
"When checking a pet, you need to:
-Contact Reservations at least 48 hours prior to travel;
-Check-in at the ticket counter with your official orders;
-Allow extra check-in time (at least 2 hours and no more than 4 hours before your flight);
-Complete a checklist with an agent;
-Provide a health certificate".
"To ensure the health and safety of your pet, the health certificate you provide must be issued by a vet within:
-10 days of your travel;
-60 days before your return (travel on the same ticket);
-10 days of your return (travel on a separate ticket)".
However, this is only an example, and you should take a look at the pet policy of the carrier you intend to travel through.
Based on whether your dog will travel in the cargo area or as carry-on, you may need to go to the airport much earlier, i.e. 3 to 5 hours, so you should keep this in mind as well.

Costs
Unlike service animals, who can accompany their handlers free of charge, as they are considered medical equipment, pet accommodation on board will cost you some money. Costs may vary based on the destination. Major US-based airlines like Delta Air Lines, United Airlines, and American Airlines charge a fee of $125 for a carry-on pet for domestic flights each way (including flights to nearby countries, but these need to be checked on the website of the certain airline).
Choose the Best Flight for Yourself and Your Dog
If you have the opportunity to choose between several options, we highly recommend that you opt for the one without transfers. Otherwise, your dog will be exposed to more stress due to the longer time spent at different airports and the procedure of going through several security checks.
Also, you need to be familiar with the pet important regulations in the country of destination as well as the quarantine that your dog may need to undergo. 
Moreover, based on the destination, pets may not be permitted at all. We will give an example, based on Jet Blue's pet policy:
"Pets are not permitted on flights to Barbados, Trinidad & Tobago and to/from London."
You should take weather conditions into consideration as well. If you are going to travel during the summer when the temperatures are too high, you may want to pick a night flight, when it will not be so hot. This is especially valid if your dog will travel in the cargo area. 
Consult a Veterinarian
This is absolutely necessary prior to travel with your dog due to various reasons. The most obvious one is related to the health declaration that you will need to hand out to the airport agents prior to departure. Your dog will need to be vaccinated up to date and based on the airline and the country of destination, he/she may need to be microchipped as well.
Veterinarian consultation will also help you learn what amount of food and water, you should give your canine before the flight. 
If you notice that your dog does not feel really well when riding in a car or another vehicle, you may need to consider giving him/her medication. In this case you should definitely consult your veterinarian and provide your canine with sedatives or tranquilizers only when prescribed.
Due to the health risks and side effects, of such medication, some airlines do not allow it, unless it is prescribed by a veterinarian, so you should get informed in regard to this matter.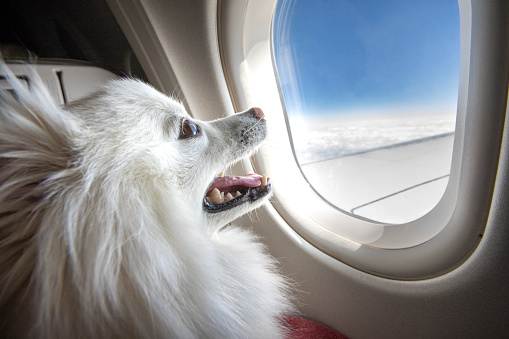 Prepare for the Flight 
We would recommend that you take your paw friend on a car ride and monitor his/her reaction before taking him/her on board. You should determine whether he/she remains calm and comfortable, or he/she is rather stressed and does not feel really well while in the vehicle. Through practicing in a car or other types of vehicles, your paw friend will get used to the sounds, and the new surrounding.
Prior to departure, you may need to take your canine for a long walk not only for a potty break but so that he/she can spend an excessive amount of energy as well and be relaxed on the aircraft.
Get dog diapers or pee pads in case you are going on a long flight. 
We highly recommend that you do research and find out where the relief areas at the airport in the country of origin and the country of destination are. You can always ask airport representatives for help, but you will save more time if you are already familiar with these areas prior to going to the airport. Also, if your dog will travel in the cargo area, you may need to take him/her to a certain cargo location, where you will pick him/her up upon arrival. You may want to take a look at the airport map and get familiar with these locations as well.
We would recommend that you put your dog's blanket in the carrier so that he/she feels comfortable during the flight. You can prepare his/her favorite toys as well.
Another piece of advice, that may be helpful, is to put your dog's photo on the carrier or at least have his/her photo on your phone, just in case.
When at the security checkpoint, you will need to get your paw friend out of his/her carrier to go through the security check, while the carrier goes through X-ray. We would recommend that you get prepared to remove your dog's training gear so that it will not interfere with the detector. 
Upon Arrival
There are a few important things to consider upon arrival such as: 
-In case your dog traveled in the cargo area, pick him/her up as soon as possible from the special cargo location. If you do not take your pet within a few hours, he/she may be transferred to a boarding facility;
-Search for a relief area, so that you can take your dog for a potty break;
-Take your dog for a walk, especially if it was a long flight.
Traveling with a dog may be quite challenging, but we are confident that through proper preparation you can make the process less stressful for your paw friend.