If you are reading this article it is likely that your dog's birthday might be coming up or you just want to make something special for your loyal friend. Either way, we are happy to share a few of our favorite dog cake recipes with you so keep reading!
The recipe listed below includes peanut butter, applesauce, and pumpkin for the body and you can add optional frosting made of peanut butter and yogurt. Many dog owners also add small bone-shaped treats on top of the cake to make it more interesting. This dog cake can be eaten by humans but it does not include any sugar so we don't recommend it on the account of its lackluster flavor. The easy dog cake is baked just like any other human-grade cake but it is specially designed for dogs.
Ingredients
Let's start with the ingredients first, to make the cake:
    • 1 cup flour (regular wheat flour is fine)
    • 1/2 tsp baking soda
    • 1/8 cup vegetable oil (we recommend flax seed oil as it helps keep your dog's fur shiny!)
    • 1/4 cup natural peanut butter (make sure it does not include Xylitol as it is poisonous to dogs!)
    • 1/2 cup applesauce go with plain, unsweetened (alternatively, one big, peeled and shredded apple will be sufficient)
    • 1/2 cup pumpkin puree (don't use canned pumpkin pie mix)
    • 1 egg
To make the frosting you will need the following:
    • 1/2 cup plain Greek yogurt
    • 1/4 cup peanut butter
How to Make the Easy Dog Cake
Let's make the cake first and the frosting later. Please, follow the steps below as best as you can:
    1. Preheat the oven to 350 Fahrenheit/175 Celsius.
    2. In a large bowl, combine the flour and the baking soda.
    3. In a separate bowl mix together vegetable oil, peanut butter, applesauce and pumpkin puree. Once combined, mix in egg and mix until combined.
    4. Combine the wet and dry ingredients and stir until the mixture is homogeneous/smooth.
    5. Pour the mixture into a round pan that has been greased with oil. The pan should be at least 8 inch/20 cm in wide.
    6. Bake for approximately 25-30 minutes or until a toothpick inserted into the center comes out clean and the cake springs back when pressed lightly.
    7. Allow to cool on a wire rack prior to removing from pan.
    8. After cooling, add frosting if desired.
If your dog is allergic to grain, you can substitute the wheat flour with chickpea/garbanzo bean flour.
Making the frosting is very easy! Mix the Greek yogurt and peanut butter in a large bowl until the mixture is nice and fluffy. Spread the mixture over the cake. Don't forget to sprinkle some bone-shaped treats on top and on the side. Depending on the size of your pooch, you can go with one, two, or even three slices of cake. If you will not serve the cake immediately, it is safe to store it in the refrigerator. We are trying to shape the cake like so: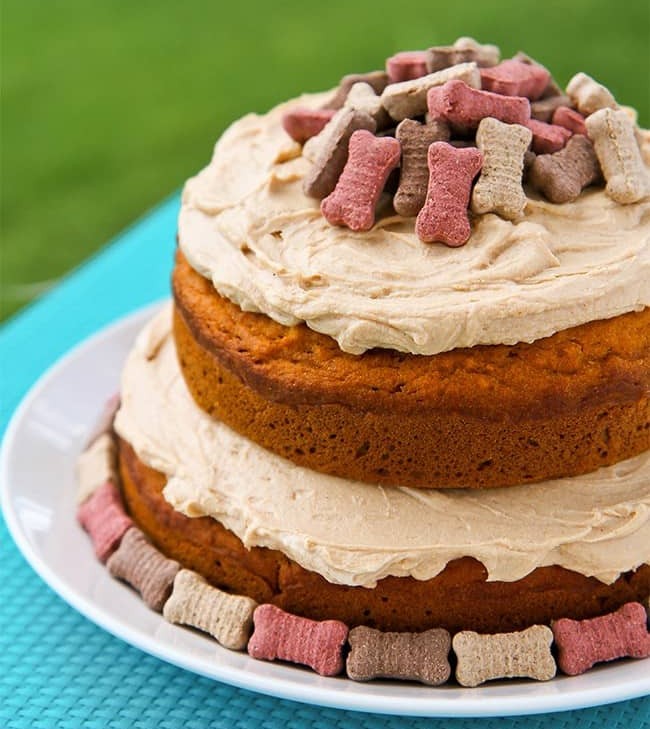 Image source: www.lovefromtheoven.com
Those of you who might be interested in the nutrient content, please check for details below:
Calories: 207.9kcal | Carbohydrates: 18.53g | Protein: 7.82g | Fat: 12.31g | Saturated Fat: 4.71g | Cholesterol: 21.09mg | Sodium: 156.11mg | Potassium: 189.42mg | Fiber: 2g | Sugar: 3.89g | Vitamin A: 2412.78IU | Vitamin C: 0.8mg | Calcium: 30.09mg | Iron: 1.37mg
Frozen Peanut Butter-Yogurt Dog Treats
This recipe was shared online at browneyedbaker.com and we had to add it to this article as it is very easy to do and can be used during your during your basic obedience or more advanced training sessions. You will need the following ingredients:
    • 1 cup (258 g) creamy peanut butter, melted (make sure it does not contain Xylitol!)
    • 32 ounces (907.19 ml) plain yogurt (use regular yogurt not the reduced-fat one)
The cooking process is very simple, just follow the steps below:
    1. Line two rimmed baking sheets with parchment paper.
    2. In a medium-sized bowl, whisk together the melted peanut butter and yogurt until you have a smooth texture.
    3. Using a medium cookie scoop (or 2 tablespoonfuls), drop mounds of the mixture onto the prepared baking sheets.
    4. Place the sheets in the freezer until completely frozen. Might take about 1 hour.
    5. Transfer the treats to a freezer-safe container or zip-top bag and store in the freezer for up to 2 months.
We are trying to make the cookies look like small disks. Alternatively, you could use cookie shapes.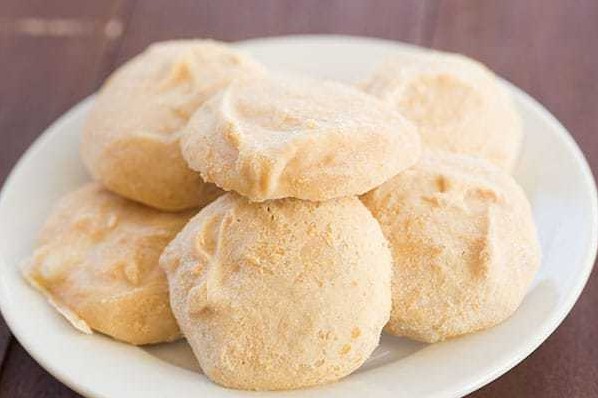 Image source: www.browneyedbaker.com
Take the treats out of the freezer and let them on the counter for 2-3 minutes before you begin training with your dog just so the cookies are not too cold. The nutrition values are listed below and refer to one serving:
Calories: 86kcal | Carbohydrates: 3g | Protein: 4g | Fat: 6g | Saturated fat: 1g | Cholesterol: 4m | Sodium: 66mg | Potassium: 128mg | Sugar: 2g | Vitamin A: 35IU | Vitamin C: 0.2mg | Calcium: 50mg | Iron: 0.2mg
Raw Dog Birthday Cake
This recipe can be seen at thedogbakery.com and many other sites that can help you make your dog's mealtime special. We like this one a lot due to its easy preparation and because it is packed with meat which your dog will love. You will need the following ingredients:
    • 250 grams minced duck
    • 250 grams minced beef
    • a handful of berries (we recommend blueberries or raspberries)
    • 6 dehydrated sprats (make sure there are no additives; alternatively use another dried small fish)
    • 1 tablespoon coconut oil (it has anti-inflammatory, anti-fungal, and anti-bacterial properties, it also makes dogs' coats glossy and sleek)
The Raw Dog Birthday Cake is not baked and you only need a few small bowls to pour the mixture in. Follow the steps laid out below:
    1. Thaw out your minced meats and set them on four cake tins or flat bowls, making two layers of minced beef and two layers of minced duck.
    2. Place the tins in the freezer for 3 hours until frozen solid.
    3. Remove the layers from the tins and stack all 4 layers while alternating the types of meat.
    4. Drizzle some melted coconut oil on top and watch as it slowly firms up in a minute. The oil should not be hot.
    5. Add small drops of the coconut oil and use it as adhesive to stick the berries.
    6. Drizzle some coconut oil on the sides and use it to stick the dehydrated sprats.
    7. Serve while frozen or leave it to thaw for dogs who don't like frozen foods.
We are trying to make the cake look roughly like this: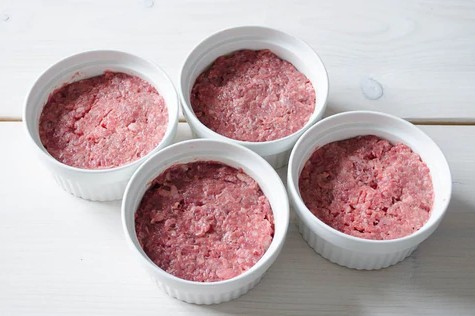 Image source: www.thedogbakery.com
If you are looking for more tips on training, care, and general advice about dogs, please check our blog.