Preparing for a flight is a process typically accompanied by a lot of hustle and bustle. This is pretty normal of course, as we need to make sure that we have met all the rules and have prepared all the documentation needed to enter a particular country or region/area. This process can become even more hectic if we would like to travel with our beloved pet dog. In this case, we need to think not only about the rules we have to follow in order to get onboard but also about the regulations our dog has to meet too. Moreover, flying with a dog can be an expensive experience, as there are usually fees that apply to them.
As responsible and loving dog owners we want to provide our beloved paw family members with the best possible experience while onboard an aircraft. In order to do that, some of us may even consider buying a separate seat for our dogs.
Would that be possible, what are the pet fees of some of the major US airlines, and what dogs can travel free of charge- if you want to find the answers to those questions, you are in the right place!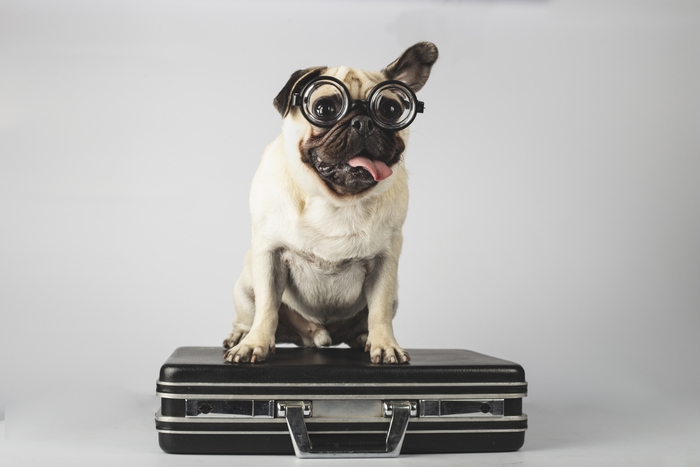 Flying With A Dog - General Requirements
Kennel
Whether in the passenger cabin or in the cargo area, our pet dogs will have to travel in a kennel. The kennel must meet the airline's requirements in regard to size and/or material. If you will be traveling with your pet in the passenger cabin, the kennel will have to fit in the space under the seat in front of you. If your paw friend travels in the cargo area (typically needed for dogs of larger breeds), you should check the requirements in regard to the maximum kennel size allowed. The maximum size of the kennel may vary depending on the aircraft type. Also, the kennel where your pet will travel must be spacious enough so he/she feels comfortable and is able to sit, stay and turn around.
It is highly recommended that you check what requirements the airline has in regard to the size and material for the dog kennels accepted onboard.
Weight
Since dogs in the cabin must remain in a kennel under the seat in front of the owner, their weight must allow it. A standard requirement of many major airlines is that the total weight of the kennel and the pet together should not exceed 20 lbs.
Multiple Dogs In The Same Kennel
Some airlines allow more than one dog or cat to travel in the same kennel, in case they meet the weight and age requirements of the airline. Usually, the weight of 20 lbs is mentioned as the maximum weight per dog in a kennel; the age of 8 weeks is typically listed as the minimum and the age of 6 months-the maximum age for dogs who will travel in the same kennel. As explained earlier, this depends on the pet policy of the particular airline.
Number of Pets Allowed Onboard / Per Person
Airlines limit the maximum number of pets per flight. Based on the ticket class this number varies, i.e. Delta Airlines have listed on their website the following information: "Main Cabin- Domestic and International: 4 (Restrictions may apply), International Business Class, International Delta One, Delta Premium Select: 0 (Not Permitted at any time regardless of aircraft. Excludes service animals), Domestic Business Class, Domestic Delta One, International First Class (Carry-on Pets are not allowed in any cabin with flat-bed seats).
Typically, only one pet kennel is allowed per person in the passenger cabin. Some airlines have special regulations for dogs and their litter (in case the puppies are unweaned) and allow a female dog to travel with her puppies. However, not all airlines welcome unweaned puppies onboard. And even if this is the case, they still need to have reached a certain age to be allowed.
When it comes to the cargo area, there are also restrictions on the maximum number of pets allowed. In most cases, two pets per passenger are allowed to travel in the hold. Some airlines limit this number to three.
If you have multiple dogs or pets in general, you should check with the airline what the maximum number of pets per person as well as onboard is.
Age Restrictions
The age of your paw friend is also something you should consider prior to requesting travel with him/her. Based on the flight-domestic or international, the minimum age of the dogs onboard also varies. For domestic flights, it is typically 8–10 weeks, while it must be about 14–16 weeks for international flights. This is something that also depends on the particular airline.
Country of Departure & Country of Arrival
Based on the country you intend to travel from/to, you may or may not be able to take your pet. Unfortunately, there are certain routes where pets may not be allowed at all neither from a particular country nor to or through its territory. This is especially valid for the import of pets in the US from countries considered high risk for rabies. We will quote information listed on the website of American Airlines:
"The U.S. Centers for Disease Control and Prevention (CDC) has issued a temporary suspension of dogs (carry-on or checked), including fully trained service dogs, traveling to the U.S. from a country considered high-risk for dog rabies."
Fees
You will have to pay a fee for your pet based on the route and the area where your pet will be traveling. Usually, fees are charged each way and are approximately $100-$125 within the US and about $200 for international flights. Some airlines specifically explain that fees for pets traveling in the cargo area vary and may need to be confirmed at the time of booking.
Health Requirements
You must provide the airline with your pet's certificate prior to departure and make sure that he/she is healthy and up-to-date with all vaccinations. If you will be traveling from/to countries with a high risk of rabies, you should check the special requirements. The following documentation for your pet may be required:
Health Certificate;

Microchip Certificate;

Rabies Vaccination;

Parasite Control Certificate;

Rabies Titer Test Results.
Timely Manner
It is not only essential for you and your dog to meet all the requirements to be allowed onboard the aircraft, but also to submit all the needed documentation in a timely manner. You should check the minimum time frame within which you must contact and provide your dog's required documentation in order to be allowed to travel with him/her.
Breed Restrictions
Based on the airline, some dog breeds (this is also valid for cat breeds) may be prohibited. Dogs who are typically restricted are representatives of breeds considered "aggressive" or breeds, that are genetically predisposed to respiratory issues (this mainly applies to the so-called brachycephalic breeds).
Sedation
Some of you may have been given the advice to sedate your pet dogs or cats during a flight. We would recommend that you reconsider your decision as this may not be only unhealthy for your pet, but also may cause him/her to be prohibited onboard. American Airlines states:
"At the recommendation of the American Veterinary Medical Association (AVMA), American Airlines will not accept household dogs and cats that have been sedated or tranquilized. Pets that have been given sedatives or tranquilizers are at a higher risk of respiratory and cardiovascular problems at high altitudes. American Airlines will not knowingly accept a dog or cat that has been or appears to have been sedated."
Where On The Plane Can You Sit With Your Dog?
Based on the pet policy of some major airlines we have checked, including American Airlines, United Airlines, Delta Airlines, and Jet Blue, pet dogs who are transported in the passenger cabin, must remain in a kennel, that fits the space under the front seat. It is not likely to you will be able to purchase a separate seat for your paw friend. Passengers with pets must not obstruct access to the aisle or the emergency exit.
Can An Emotional Support Animal Occupy A Seat?
No. Emotional Support Animals (ESAs) can not occupy a seat. Most of you may already know that at the end of 2020 airlines changed their regulations and decided to treat ESAs as pets. These animals provide comfort and companionship to their owners, but due to the lack of specialized training, including specific tasks related to a disability, they won't receive special treatment at the airport or onboard an aircraft. The airline's pet policy will apply to them.
Can Your Service Animal Occupy A Seat?
It is the same answer here- No. Service animals are perceived as medical equipment and special rules apply to them. They are allowed to fly free of charge within the footprint of the seat you have purchased. If the animal is too large to fit in, then you may need to book an extra seat or wait for a flight that has more free seats available.
According to the service dog policy of the major US airlines we have checked, no animal is allowed to occupy a seat, even if it is a service animal.